Michigan State Police Medical Marijuana Investigation Section MMIS
---
The Michigan State Police are hiring!
They are looking for a "Narcotics Intelligence Analyst" to  "Focus on providing assistance to the Medical Marihuana Investigation Section (MMIS) with marihuana investigations related to the Michigan Medical Marihuana Act, Medical Marihuana Facilities Licensing Act, and Marihuana Tracking Act."
There is also a position available for a combination Marihuana and Tobacco Tax Investigation Section within the State Police.
This position serves as an investigator for violations of the Tobacco Products Tax Act (TPTA), the Medical Marihuana
Facilities Licensing Act (MMFLA), and related laws. This position will investigate all acts of tax evasion as it relates to the
TPTA, the procurement and use of counterfeit tobacco stamps, and smuggling of tobacco products into the State of
Michigan. The position will conduct background investigations and pre-licensure inspections of individuals and facilities
seeking to be licensed under the MMFLA; conduct administrative and regulatory inspections of licensed facilities; and
conduct criminal investigations of licensed and unlicensed individuals and facilities that are suspected of violating the
MMFLA or related laws. The position will also engage in enforcement of other criminal violations discovered during the
course of these investigations.
One of the duties of this MSP Trooper Tax Enforcer position is to coordinate with Federal enforcement agencies and prosecutors.
Maintain a working relationship with courts, prosecutors and other enforcement agencies at federal, state and local levels.
Initiate positive interaction with court personnel, federal, county and state prosecutors.
Assist federal, state and local law enforcement agencies on complaints related to theft of cigarettes and all tobacco
smuggling.
It is interesting that the Michigan State Police are now getting on board with Medical Marihuana in Michigan. Official statements and policy by the MSP in the past have all been against the MMMA and MMFLA at multiple points.
https://www.southbendtribune.com/news/local/new-laws-in-michigan-shake-up-the-marijuana-industry/article_21fd1838-50a3-5281-a65a-06ebba9ca838.html
In some ways, the new laws will legitimize dispensaries, which have operated in the legal shadows since the original medical marijuana law was approved by voters in 2008. In a series of rulings, state appellate courts said the medical marijuana law did not offer protection for retail stores, though caregivers and patients have tried to keep dispensaries open as nonprofit "collectives" or "clubs."

In the more cannabis-friendly areas such as Ann Arbor and Lansing, dozens of dispensaries have operated without much interference from local or state authorities. But the facilities have remained illegal under state law, and in areas such as Grand Rapids they have shut down after raids by police.

Because processors and dispensaries will be allowed to buy marijuana and products only from the new commercial entities, existing medical marijuana caregivers will not have a legal outlet for their "overages," or excess product after providing for their patients, said Komorn, the Michigan Medical Marijuana Association president.

When the new legal framework takes effect, it's unclear if the state will allow any of the existing dispensaries to shift to the new system, or if some caregivers will try to keep operating underground with the same model.
"Nobody within the medical cannabis community ever supported a dispensary law that cut out the caregivers," Komorn said. "You've got this group of individuals that has taken on risk just to be compassionate, and it would have been nice for the state to give those individuals a place in the system."

"You've got a lot of moving parts taking place," said Michael Komorn, a Detroit lawyer and president of the Michigan Medical Marijuana Association. "To me, it represents a new era of the state unequivocally saying they're in the business of selling medical marijuana and receiving revenue from it."
http://www.detroitnews.com/story/news/local/michigan/2018/01/01/medical-marijuana-enforcement-grants-michigan/109087886/
But Tim Beck, who helped write the original voter-approved law, said using registration fees to fund police raids is an "existential insult" to medical marijuana patients that suggests they pose a "threat" to the public.

The fees were designed to pay for administration and oversight of the law, but Beck said he never imagined they would fund county sheriffs. Some activists have called on the state to lower the fees again after having done so in 2015, but Beck would rather see the state spend the money on other priorities.

"They have an embarrassment of riches, and they don't know what to do with the money except buy more gear," said Beck, arguing sheriffs already receive enough money to enforce state laws. "This was a sop to law enforcement for whatever reason, and that's all it is."
When the MMMA became law, police officers were not trained how to handle medical marijuana situations.
Ken Stecker from the Prosecuting Attorneys Association of Michigan authored a reefer madness type propaganda power point presentation around the state explaining the MMMA to various law enforcement agents and organizations.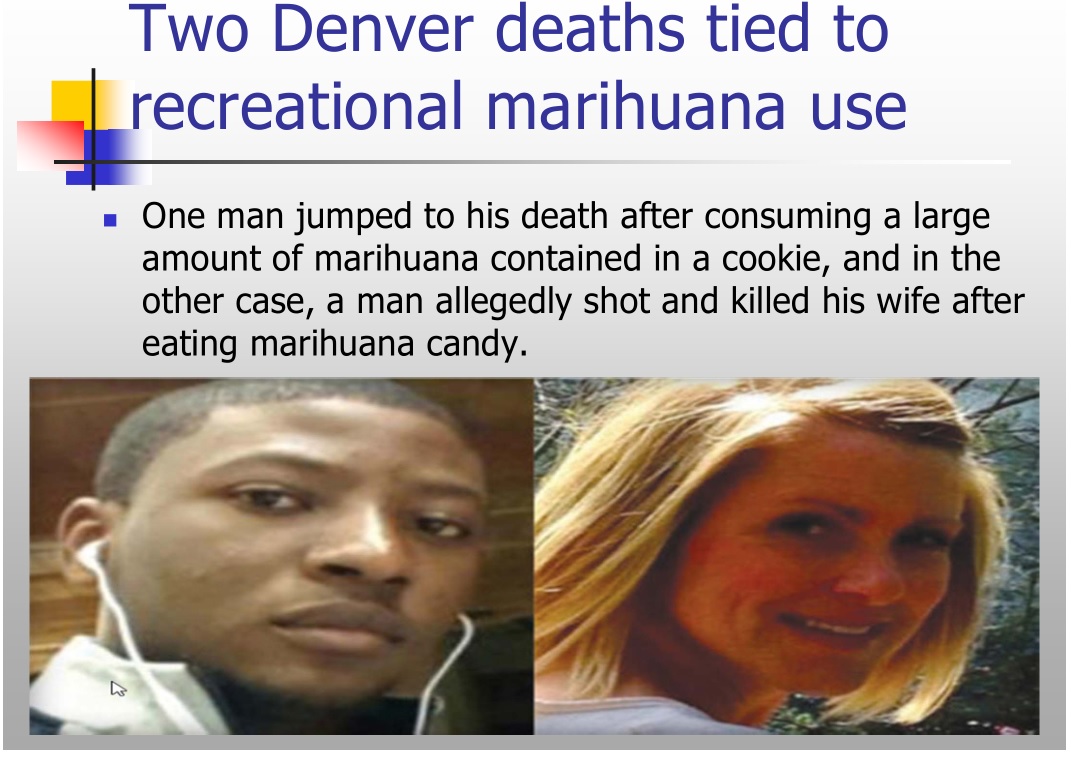 Ken Stecker included propaganda such as this in his "updated presentation" on Michigan's Medical Marihuana Program. Why was a person, not affiliated in any way with the State of Michigan, going around doing talks with local, county and state police officers about a medical law?
What is this Medical Marijuana Investigation Section?
The House Legislative Analysis explains what HB 4209 (Public Act 281 of 2016) aka the MMFLA does for law enforcement:
The Department of State Police (MSP) would provide 34.0 FTEs for criminal enforcement activities related to medical marihuana at an annual cost of $6.0 million.
This assumption is based on the personnel employed by the MSP to provide criminal enforcement activities for the Michigan Casino Gaming Board (MGCB).
The Department of Attorney General (AG) would provide 4.0 FTEs for legal and prosecutorial support related to medical marihuana at an annual cost of $500,000.
After being against the MMMA, the MMFLA, patients, caregivers, and everything possibly to do with medical marijuana,  the Michigan State Police now have to regulate and enforce it.
Compliance Checks? Marijuana Tracking ACT ?
The Seed to Sale , or Marijuana Tracking ACT is a law in Michigan to track and report all sales, transfers, processes, manufacturing and cultivation within the MMFLA.
It allows law enforcement agencies to verify and enforce regulations in the MMFLA, including the tracking of patient and caregiver purchases within the retail state-licensed MMFLA dispensaries.
Ultimately, the police have inserted themselves between you and your doctor. The police asked for these regulations during the MMFLA law drafting committees and senate and house hearings on these bills. The police want to look at the MMFLA registry and if you have bought too much marijuana from the system within some random arbitrary  window of time, they are going to want to investigate you. Just for the medical use of marijuana as granted by the State of Michigan.
It is sad that the police are enforcing patient's medication with jail time.