Michigan's Finest Repeatedly Shoot Family Dog In Head.
---
Family wants action after officer guns down family pet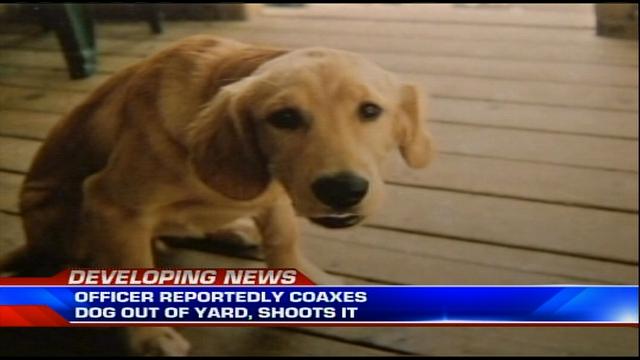 http://www.wnem.com/...down-family-pet
A local family is still shocked after what happened to their beloved pet. They say their dog was shot and killed at the hands of a police officer.
The shooting happened Saturday in St. Louis, Mich., in Gratiot County.
Lori Walmsley, a neighbor of the family who lost their pet, says she saw the incident.
Walmsley says she was outside playing with her own dog when her neighbor's golden retriever, Scout, ran over into her yard. She says she called the dog over to play, which Scout did, and then Scout ran back over back into his own yard. That's when Walmsley says a police officer showed up.
Walmsley said the officer asked if the was dog hers. She said "no," but told the officer Scout wasn't dangerous. She says the officer tried to catch the dog, who apparently didn't want to be caught. The dog tried to run away and when cornered by the officer, let out a little growl. Walmsley says she couldn't believe what happened next.
"I heard 'pop pop pop pop pop,' and I thought, 'what is going on,' and I [saw] the St. Louis Police Department standing over my dog," said Scout's owner.
"He just started shooting him, he just kept shooting him in the head," said Walmsley. "I said, 'What are you doing? He's just a puppy!'"
The dog was taken to the vet were it later died.
The witness says the officer wasn't provoked and she doesn't feel his reaction was warranted. Scout's owners were inside their house during the incident.
For more on this story, including the police report from the incident, check out TV5's update here.
For Wednesday's story on the protest, click here.