Pregnancy and Marijuana: The Research is lacking.
---
Pregnancy and Medical Marijuana
Expectant mothers are searching for answers about the safety profile of Medical Marijuana. Unfortunately the scientific community has dropped the ball and kicked it off the cliff on this issue. The lack of scientific research is due to marijuana's illegality. Further, there exist huge biases within the published research. Mostly the research confounds marijuana use with tobacco and/or alcohol, two known causes of fetus and child harm. Separating out marijuana effects from the self-reported research on mothers who also smoke tobacco and drink alcohol is impossible. Likewise no pregnant women are signing up for research studies due to the illegality of marijuana and CPS removing children from mothers for testing positive for marijuana use.
Many organizations quote from other organizations, who quote from other studies and reviews. The Minnesota Department of Health OFFICE OF MEDICAL CANNABIS quotes from the American College of Obstetricians and Gynecologists Committee report:
Quote

The American College of Obstetricians and Gynecologists Committee on Obstetric Practice discourages the use of medical cannabis during preconception, pregnancy and breastfeeding due to concern for potential harm including impaired neurodevelopment (Committee on Obstetric Practice 2015).
In the American College of Obstetricians and Gynecologists official committee opinion, interim update Oct 2017, the committee found:
Quote

 

Effects of Marijuana Use on Lactation

There are insufficient data to evaluate the effects of marijuana use on infants during lactation and breastfeeding, and in the absence of such data, marijuana use is discouraged.

Medical Marijuana

Because marijuana is neither regulated nor evaluated by the U.S. Food and Drug Administration, there are no approved indications, contraindications, safety precautions, or recommendations regarding its use during pregnancy and lactation. Likewise, there are no standardized formulations, dosages, or delivery systems. Smoking, the most common route of administration of THC, cannot be medically condoned during pregnancy and lactation. Therefore, obstetrician–gynecologists should be discouraged from prescribing or suggesting the use of marijuana for medicinal purposes during the period before pregnancy, and during pregnancy and lactation. Rather, pregnant women or women contemplating pregnancy should be encouraged to discontinue use of marijuana for medicinal purposes in favor of an alternative therapy for which there are better pregnancy-specific safety data. High-quality studies regarding the effects of marijuana and other cannabis products on pregnancy and lactation are needed.

 
Uninformed opinion, with zero evidence and lots of fear, uncertainty and doubt (FUD) are used to scare mothers away from a nontoxic plant. These uninformed unscientific opinions are being used by lawmakers to craft laws continuing the cycle of FUD and the illegality of marijuana. "Oh we don't know what marijuana does, so let's treat it like heroin" and "if anyone questions our opinion of marijuana, we'll call them dirty lazy pothead stoner hippies" or "puppets of the marijuana industry".
But we do know what marijuana does. One cannot live in a bubble and ignore reality and the world around us. Women smoke and eat marijuana while pregnant.
Cannabis use during pregnancy in France in 2010
Quote

According to studies based on women's responses, 2–3% of women in the Avon Longitudinal Study of Parents and Children (ALSPAC) in 1991–92 reported cannabis use in the UK,6 2.6% of women surveyed in Australia between 2000 and 2006 used cannabis, 3.2% used cannabis in the USA from 1997 to 2004, 9.5% reported cannabis use at Yale–New Haven Hospital in 1980–82, and 13% reported cannabis use in the first trimester of pregnancy, and 10% reported cannabis use in the third trimester, in Ontario. A study based on either interviews or urine assays concluded that 27% of pregnant women at Boston City Hospital were cannabis users between 1984 and 1987. Finally, in the USA during 1996–1998, 2.8% of pregnant women reported that they used illicit drugs, and marijuana accounted for three-quarters of that use.
Trends in Self-reported and Biochemically Tested Marijuana Use Among Pregnant Females in California From 2009-2016
Quote

From 2009 to 2016, marijuana use among KPNC pregnant females increased from 4% to 7%. Of concern, 22% of pregnant females younger than 18 years and 19% of pregnant females aged 18 to 24 years screened positive for marijuana use in 2016. Age-specific, self-reported prevalences were similar to US data,1 but toxicology prevalences were higher, suggesting use has been underestimated in self-reported surveys.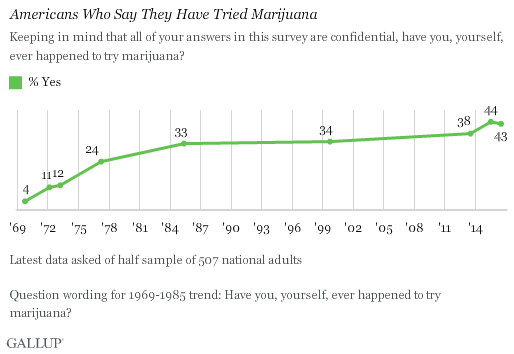 http://news.gallup.com/poll/194195/adults-say-smoke-marijuana.aspx 
Much of the opinions on marijuana are tainted by a small number of poorly designed studies on marijuana. For example, the National Institute of Health gives grants to researchers through NIDA, the National Institute of Drug Abuse, to study marijuana. NIDA's focus is on drug abuse, so 90% of its grants are for studies on marijuana abuse, not marijuana benefits. When you ignore half of your research, you ignore science. Many of these studies are completed in order to get future grants from NIDA; research is often conducted from the conclusion backwards in order to show some kind of harm from marijuana use. This, in of itself, does not bias research.
Quote

"As the National Institute on Drug Abuse, our focus is primarily on the negative consequences of marijuana use," said Shirley Simson, a spokeswoman for the drug abuse institute, known as NIDA. "We generally do not fund research focused on the potential beneficial medical effects of marijuana."
https://www.nytimes.com/2010/01/19/health/policy/19marijuana.html 
The bias is introduced when researchers are rushed and forced to publish results, even if the studies were deficient. For example, every website and newspaper ran with the story about marijuana using children lose IQ points. Not many reported on the follow-up study that could not replicate the first study. When eliminating co-founders, the new study found no drop in IQ points. Further, research on twin siblings showed that the drop in IQ was due to parenting, binge drinking or other societal influences, not marijuana.
https://www.drugabuse.gov/news-events/nida-notes/2016/08/study-questions-role-marijuana-in-teen-users-iq-decline 
Quote

 

Dr. Isen's and Mr. Jackson's team found that marijuana users experienced IQ declines in the teen years, but that the drug appeared not to cause them. What, then, did cause them?

 

The researchers propose that marijuana users fall behind in IQ because they have experienced adverse familial influences that decrease their motivation to learn and predispose them to engage in delinquency and deviant behaviors, including substance use. These negative attitudes and behaviors impede the normal accumulation of vocabulary and information.

 

These findings contrast but are not entirely inconsistent with those of an earlier study that linked teen-onset regular marijuana use to IQ deficits in the fourth decade of life (see Early-Onset, Regular Cannabis Use Is Linked to IQ Decline). The researchers say that although their evidence indicates that marijuana exposure does not cause persistent loss of intellectual function up to age 20, prolonged regular exposure for decades might do so.




 

 
Try reading that last sentence again. In a world of science, evidence, reasoning and logic, a doctor makes a statement that decades of use of marijuana might make you lose intellectual function, based on conjecture.
NIDA also continues to perpetuate the myth that Marijuana is a "gateway drug".
https://www.drugabuse.gov/publications/research-reports/marijuana/marijuana-gateway-drug 
These findings are consistent with the idea of marijuana as a "gateway drug." However, the majority of people who use marijuana do not go on to use other, "harder" substances.
NIDA, NIH, FDA, DEA, including other federal, state, and local government organizations and private companies continue to perpetuate these and other lies in order to keep marijuana illegal. ASA has filed complaints against the DEA multiple times to get it to remove incorrect statements about marijuana off of the DEA's website.
http://www.safeaccessnow.org/iqa_victory 
A cyclical pattern emerges from the current and past situation surrounding marijuana.
1.      Stymied scientific research, due to illegality of marijuana and government funding biases
2.      Using stymied scientific research as a reason to ignore reality.
3.      Repeating the biased scientific research, long after it was shown to be deficient.
4.      Using the deficient biased research in "meta-reviews". Thus taking bad science as a base to create more bad science just by doing an analysis of the bad science conclusions.
5.      Even after a research study has been fully proven to be deficient and conflicting with better research, continue to hold it up as if it is still valid in some way.
6.      Publish opinions as if they were facts, without any data to back up any claims.
Continue reading for more conflicting studies and more calls for research.
Marijuana: Prenatal and Postnatal Exposure in the Human
Quote

Recent studies of prenatal exposure to marijuana have produced presumptive evidence that marijuana has an adverse effect on growth and development of the fetus. Two investigators (Linn et al. 1983; Gibson et al. 1983) reported a decrease in birth weight and an increase in malformations in marijuana— exposed infants, but differences between marijuana users and nonusers were not statistically significant when confounding factors were taken into account. Hingson et al. (1982) reported that woman who used marijuana during pregnancy delivered infants with a mean birth weight 105 grams lighter than infants of nonusers, and the infants were five times mere likely than infants of nonusers to have features compatible with Fetal Alcohol Syndrome. Although confounding factors were controlled statistically, the investigators cautioned that marijuana use might identify a group of women at higher pregnancy risk due to unexplored maternal factors, rather than identifying a specific agent causing abnormal fetal development. In a preliminary report from an ongoing prospective study in Canada, Fried (1980, 1982) found no difference in birth weight between marijuana users and nonusers, but infants of heavy users had shorter gestations and signs of neurobehavioral immaturity as compared with matched controls.
Marijuana use in pregnancy and lactation: a review of the evidence
Quote

Summary recommendations for the practicing clinician are listed in Table 5. These recommendations are made after a thorough review of the existing literature but are based on studies of varying methodological quality with mixed results and reflect the opinions of the authors after completing this extensive review. Until further data are available, we should continue to discourage women from using recreational drugs, including marijuana, during pregnancy and lactation, given the uncertain short and long-term outcomes.
Quote

Presently, the effects of marijuana on the human fetus have been described as "at best subtle and likely confounded."  One meta-analysis of child health outcomes found that birth weight among marijuana-exposed newborns showed a pooled mean difference of 109 g or .24 pounds.9 Additionally, a positive association was found between in utero exposure to marijuana and the need for placement in the neonatal intensive care unit (NICU). Other fetal outcomes, however, such as gestational age, gestational length, head circumference, APGAR scores, neurobehavioral changes, days spent in the hospital and perinatal mortality were not found to be affected by maternal marijuana use during pregnancy. These subtle findings, however, may be confounded by several well-known factors influencing fetal outcomes such as psychiatric disorders, socioeconomic factors, educational factors and tobacco use. More research is clearly needed and it is incumbent on clinicians who treat women of reproductive age as well as pregnant women to ask about cannabis when asking about other substance use such as tobacco and alcohol. It is recommended that women who are or who want to become pregnant and who report marijuana use should be counseled in a non-judgmental manner about the potential negative effects on the fetus. Lastly, women need to know that these question about marijuana use are for screening purposes only, and not an attempt to punish or prosecute her.
The Association of Marijuana Use with Outcome of Pregnancy
Quote

Newborn infants of users of marijuana had a statistically significantly lower birthweight, but when other variables were controlled, marijuana usage was not statistically significantly associated with low birthweight. Several other variables were more strongly associated with and statistically significantly related to the occurrence of low birthweight including smoking cigarettes, history of previous stillbirth or miscarriage, primiparity, low ponderal index, having less than a college education, and being Black.
Prenatal Tobacco, Marijuana, Stimulant, and Opiate Exposure: Outcomes and Practice Implications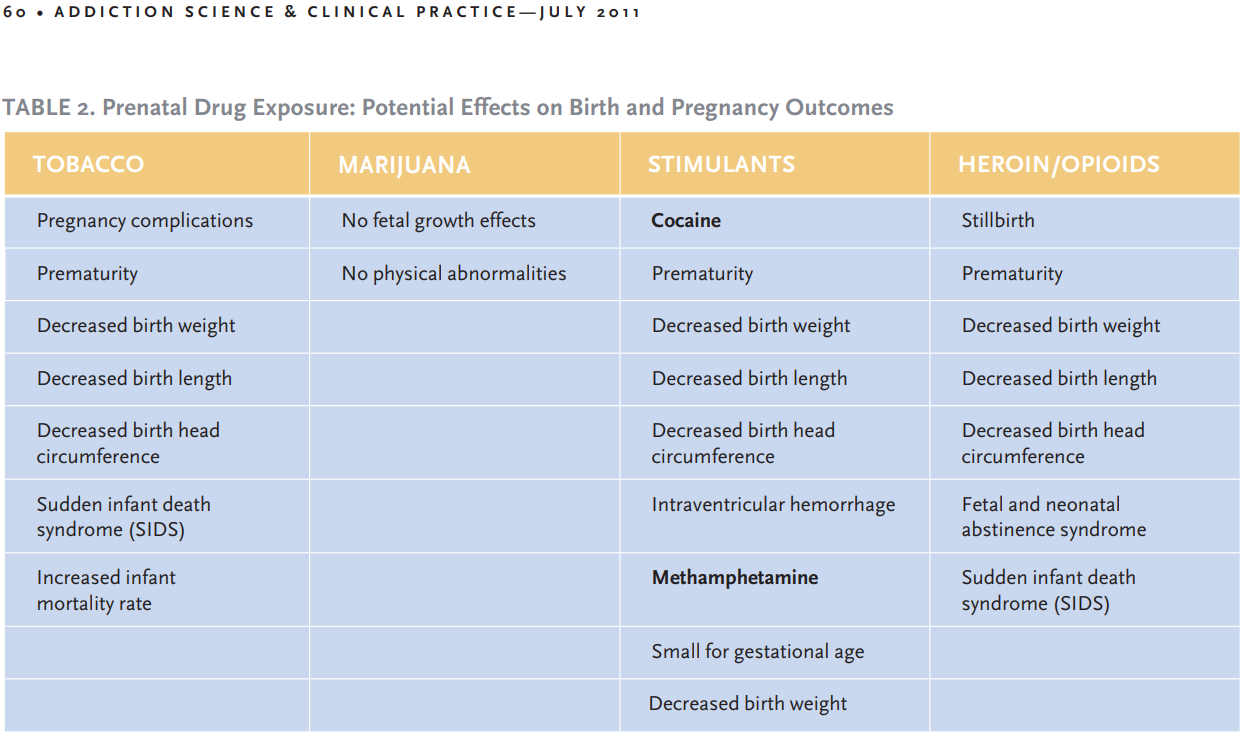 Many of these studies contradict themselves. Some report differences in birth weight, some show no differences. Read the studies yourself!
http://legislature.mi.gov/doc.aspx?2017-HB-5222 
House bill 5422 will force MMFLA provisioning centers to give patients and caregivers an unscientific pamphlet, as described by the legislature.
 
Quote

 

 (ii) A REQUIREMENT THAT ALL MARIHUANA SOLD THROUGH
 PROVISIONING CENTERS INCLUDE ON THE EXTERIOR OF THE MARIHUANA
 PACKAGING THE FOLLOWING WARNING PRINTED IN CLEARLY LEGIBLE TYPE AND
 SURROUNDED BY A CONTINUOUS HEAVY LINE:
 

 WARNING: USE BY PREGNANT OR BREASTFEEDING
 WOMEN, OR BY WOMEN PLANNING TO BECOME
 PREGNANT, MAY RESULT IN FETAL INJURY,
 PRETERM BIRTH, LOW BIRTH WEIGHT, OR
 DEVELOPMENTAL PROBLEMS FOR THE CHILD.


(T) ESTABLISH NOTICE POSTING AND INFORMATIONAL PAMPHLET
STANDARDS FOR PROVISIONING CENTERS INCLUDING, BUT NOT LIMITED TO:
 (i) A REQUIREMENT TO PROVIDE TO EVERY PATRON AT THE TIME OF
 SALE A PAMPHLET MEASURING 3.5 INCHES BY 5 INCHES THAT INCLUDES
 SAFETY INFORMATION RELATED TO MARIHUANA USE BY MINORS AND THE
 POISON CONTROL HOTLINE NUMBER, 1-800-222-1222.
 

 (ii) A REQUIREMENT TO DISPLAY AT THE POINT-OF-SALE LOCATION
 THE FOLLOWING POSTING IN 36-POINT FONT THAT IS CLEARLY LEGIBLE:
 

 • THERE MAY BE HEALTH RISKS ASSOCIATED WITH CONSUMPTION
 OF THIS PRODUCT.
 • THIS PRODUCT HAS INTOXICATING EFFECTS AND MAY BE
 HABIT-FORMING.
 • SMOKING IS HAZARDOUS TO YOUR HEALTH.
 • THIS PRODUCT SHOULD NOT BE USED BY WOMEN WHO ARE
 PREGNANT OR BREASTFEEDING.
 • THIS PRODUCT CAN IMPAIR CONCENTRATION, COORDINATION,
 AND JUDGMENT. YOU SHOULD NOT OPERATE A VEHICLE
 OR MACHINERY UNDER THE INFLUENCE OF THIS PRODUCT.
HB 5222 looks like it will pass. All this fear and doubt of a non-toxic 5,000+ year old medication used by millions of humans in every country in the world.