About six-in-ten Americans support marijuana legalization. Nancy Reagan's "Just Say No", the unsuccessful campaign that failed to keep children and adults off of drugs is finally over. Prohibition has never worked in any country. Especially with the history of Alcohol prohibition, there is no way that marijuana prohibition would ever work. Now, a majority of the people of the United States would rather make marijuana legal, and tax it instead of giving the industry to the black market cartels.
 
http://www.pewresearch.org/fact-tank/2018/01/05/americans-support-marijuana-legalization/
 
Quote

About six-in-ten Americans (61%) say the use of marijuana should be legalized, reflecting a steady increase over the past decade, according to a Pew Research Center survey.

http://www.foxnews.com/politics/2018/02/07/fox-news-poll-support-for-legalizing-marijuana-hits-record-high.html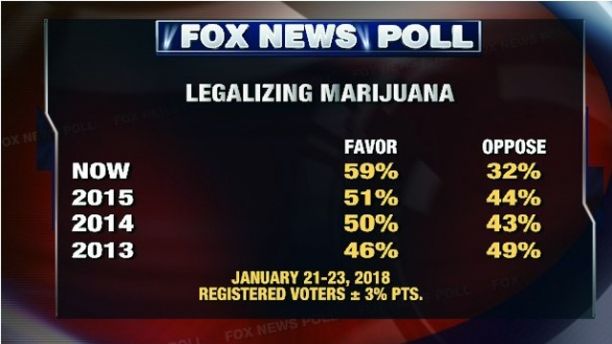 Quote

"This is a massive shift in opinion over a very short period. As more
states legalize marijuana without the negative consequences opponents
have warned about, support will likely continue to increase," says
Democratic pollster Chris Anderson, who conducts the Fox News Poll
with Daron Shaw, his Republican counterpart.

https://www.cbsnews.com/news/support-for-marijuana-legalization-at-all-time-high/
 
Quote

A recent CBS News poll shows support for legalizing marijuana is
higher than ever.

Sixty-one percent of Americans think marijuana use should be legal, a
five-point increase from last year and the highest percentage ever
recorded in this poll. Eighty-eight percent favor medical marijuana
use.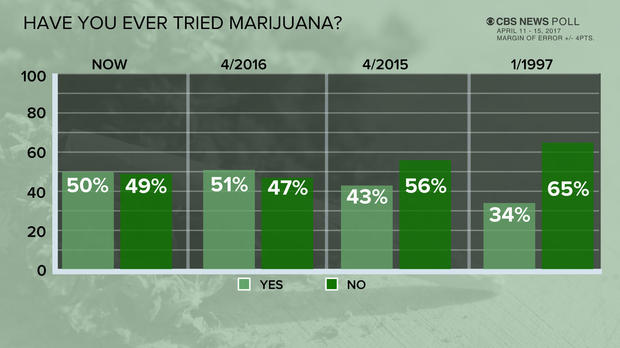 https://poll.qu.edu/national/release-detail?ReleaseID=2539

 
Quote

Legalizing Marijuana

American voters support 63 - 33 percent legalizing marijuana in the
U.S., the highest level of support ever measured in a Quinnipiac
University Poll. The previous high was 61 - 33 percent in an August 3,
2017 survey.

Support for use of medical marijuana is 93 - 5 percent, similar to prior polls.

There is a wide gender gap as 43 percent of American voters say they
have used recreational marijuana, including 54 percent of men and 33
percent of women.

Voters oppose 70 - 23 percent enforcement of federal laws against
marijuana in states that have legalized medical or recreational
marijuana. In fact, voters support 74 - 20 percent a bill protecting
states with legal medical or recreational marijuana from federal
prosecution.

Recreational marijuana is legal in the state in which they live, 22
percent of voters say. Increased revenue from taxes on recreational
marijuana is a good reason to legalize marijuana, voters say 54 - 42
percent.

American voters say 61 - 31 percent that marijuana is not a "gateway drug."

Legalizing marijuana will make people more likely to use opioids, 20
percent of voters say, while 20 percent say it will be less likely to
lead to opioid use and 56 percent say legalized marijuana will not
have much impact on opioid use.

"Voters are more favorable to legalizing marijuana than in any
previous Quinnipiac University survey, and do not see its use as a
gateway to more serious drugs," Brown said.

From April 20 - 24, Quinnipiac University surveyed 1,193 voters
nationwide, with a margin of error of +/- 3.4 percentage points,
including the design effect. Live interviewers call landlines and cell
phones.

http://news.gallup.com/poll/221018/record-high-support-legalizing-marijuana.aspx
 
Quote

WASHINGTON, D.C. -- Americans continue to warm to legalizing
marijuana, with 64% now saying its use should be made legal. This is
the highest level of public support Gallup has found for the proposal
in nearly a half-century of measurement.
Even Republicans want Legal Marijuana.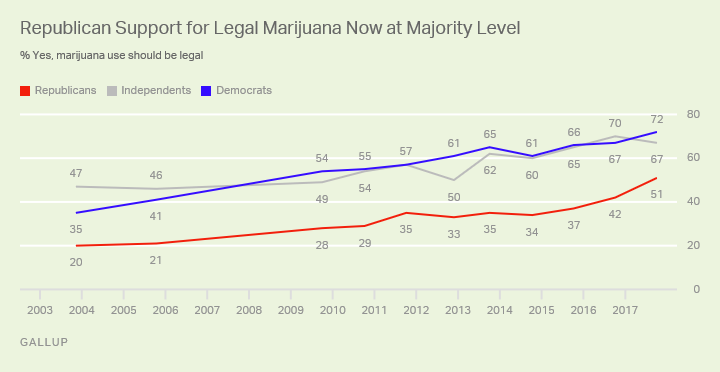 https://www.mpp.org/news/press/initiative-to-regulate-marijuana-like-alcohol-in-michigan-qualifies-for-november-ballot/
Quote

Initiative to Regulate Marijuana Like Alcohol in Michigan Qualifies for November Ballot

 Apr 26, 2018

---

State poised to become 10th in nation and first in Midwest to make marijuana legal for adults

* Statement below from Marijuana Policy Project Executive Director Matthew Schweich *                                                            
LANSING, Mich. — The Michigan State Board of Canvassers certified on Thursday that the Coalition to Regulate Marijuana Like Alcohol (CRMLA) has enough signatures to place an initiative that would make marijuana legal and regulated for adults on the state's November ballot. If approved by voters, Michigan would become the first state in the Midwest with an adult-use cannabis law.

"This November, Michigan voters will have the opportunity to replace the failed policy of marijuana prohibition with a system of taxation and regulation," said Matthew Schweich, executive director of the Marijuana Policy Project and treasurer of the CRMLA committee. "With the certification process complete, we can now turn our attention to educating voters about why approving this initiative is a sensible public policy decision that serves the interests of the people of Michigan."

In addition to allowing adults age 21 and older to possess and cultivate limited amounts of marijuana, the initiative would: regulate marijuana businesses that cultivate, process, test, transport, and sell marijuana; legalize the cultivation of industrial hemp (used to make textiles, biodegradable plastics, food, construction materials, and fuel); protect consumers with proper testing and safety regulations for retail marijuana; impose a 10 percent excise tax on marijuana sold at the retail level on top of the state's six percent sales tax; and give local governments the option of whether they want to allow marijuana businesses in their communities.

Voter-initiated laws in Michigan are required to collect 252,523 valid signatures to have an issue placed on the ballot. CRMLA submitted more than 365,000 signatures to the state Elections Bureau in November last year. Elections Bureau staff estimate that more than 277,000 signatures were valid.

Organizations supporting the coalition include the Marijuana Policy Project, the National Cannabis Industry Association, the ACLU of Michigan, the Drug Policy Alliance, the National Patients Rights Association, Michigan NORML, and MILegalize.

For more information about the ballot initiative, including full language of the proposed law, please visit www.RegulateMI.org and / or http://www.milegalize.com .

The initiative is being certified at a time when national attention is focused on marijuana policy reform. Earlier this month, President Trump reiterated his position in favor of not interfering with state marijuana policies in a conversation with Sen. Cory Gardner and assured him that the Department of Justice would not target individuals and businesses that are in compliance with state marijuana laws.

"Congress is poised to effectively end federal marijuana prohibition this year or next, but states such as Michigan will still need to enact laws that dictate how marijuana will be regulated," added Schweich. "Federal reform would not negate the need for this Michigan ballot initiative."

Marijuana is currently legal for adults in nine states and the District of Columbia. Eight states have enacted laws legalizing and regulating marijuana for adult use, and marijuana possession and limited home cultivation are legal in Vermont and the District of Columbia. More than 20 states are considering bills to make marijuana legal for adults this year.