Cannabis Infused Toffee Chocolate Chip Cookies
Buttery toffee adds an extra dimension to an already great chocolate chip cookie recipe
Yield: 26 Cookies
Serving Size: 1 Cookie
1 1/2 cups all-purpose flour
1/2 teaspoon baking soda
1/4 teaspoon baking powder
1 teaspoon salt
6 tablespoons cannabis infused butter*
2 1/4 grams kief or finely ground dried hash
3/4 cup firmly packed brown sugar
1/2 cup sugar
1 large egg
1 1/2 teaspoons vanilla extract
1 1/2 cups chocolate chips
3/4 cup toffee chips
3/4 cup chopped walnuts or pecans, optional
Preheat oven to 350 degrees F. Grease 2 large baking sheets with vegetable shortening, or alternately line them with parchment paper. In a small bowl, mix together flour, baking soda, baking powder, and salt until well combined. Set aside.
With an electric mixer fitted with the paddle attachment cream together the canna-butter, kief or ground hash, and brown and granulated sugars until well incorporated. Add the egg, and vanilla, and mix until just combined. Slowly mix in the dry ingredients and stir just until combined. Stir in the chocolate and toffee chips and nuts, if using.
Scoop out about 2 tablespoons dough and press gently to form a flattened cookie. Repeat with remaining dough, placing cookies about 2 inches apart on the prepared baking sheet. Bake for about 15 minutes or until lightly browned. Let set for 5 minutes before transferring to a wire rack to cool completely. Serve warm or at room temperature. Baked cookies will stay fresh for about 4 days in an airtight container.
Freezer Friendly!
Form dough into cookies and place on a baking sheet and freeze before baking. When frozen you can transfer the unbaked cookies to a lidded container or plastic freezer storage bag. When ready to eat, place frozen cookies on a greased or parchment lined sheet and bake at 375 degrees F for about 18 minutes or until browned.
* This dose is only a suggestion. Be sure to read and understand Calculating Cannabis Doses in Ediblesbefore attempting to cook with marijuana.
Cannabis Infused Devlishly Good Orange Drink
Yield: 1 Cup
Serving Size: 1 Cup
3 tablespoons frozen orange juice concentrate, thawed
1/2 cup whole milk or half and half
1/4 gram kief or finely ground dry hash*
1 tablespoon sugar or to taste
1/4 teaspoon vanilla extract
2 to 3 ice cubes
Place orange juice concentrate, milk or half and half, kief or ground hash, sugar, and vanilla in a blender and puree until smooth and frothy. Add ice cubes and puree until frosty and ice is incorporated into the drink. Serve immediately.
* This dose is only a suggestion. Be sure to read and understand Calculating Cannabis Doses in Ediblesbefore attempting to cook with marijuana.
Cannabis Infused Mini Pumpkin Pies
The dose below is only a suggestion. Be sure to read and understand Calculating Cannabis Doses in Edibles before attempting to cook with marijuana.
Makes 4 (4 1/2-inch) Mini Pies
Serving Size: 1 Mini-Pie
Crust:
5 tablespoons unsalted butter
5 tablespoons vegetable shortening
1/2 teaspoon salt
1 1/3 cup all-purpose flour
1/2 teaspoon salt
2 tablespoons sugar
5 to 6 tablespoons ice water
Filling:
2 large eggs
1 can (14 ounces) pumpkin (not pumpkin pie filling)
1 can (14 or 15 ounces) sweetened condensed milk or dulce de leche
1/4 teaspoon salt
1 1/2 teaspoon cinnamon
1 teaspoon ginger
1/2 teaspoon nutmeg
1/4 teaspoon ground cloves
1 gram finely ground hash or kief**
1 1/2 teaspoons vanilla extract
Prepare Crust:
Cut up the butter and shortening into small chunks and place it in the freezer for at least 15 minutes — the colder the better. Whirl flour, salt, and sugar in the food processor to blend. Add cold butter and pulse just until well incorporated — the mixture will resemble coarse crumbs (see photo, right). Remove mixture from food processor and place in a large bowl. Add ice water and mix with clean hands just until it holds together — mixture should be a little wet. Pat dough into a disk, wrap in plastic wrap and refrigerate for at least 20 minutes before rolling.
The rule of thumb for flaky pie crusts is to handle the dough as little as possible. The best way I've found to do this is to roll the dough between 2 layers or plastic wrap or waxed paper. This method also makes it easy to transfer the dough into the pie plate.
Remove your disk of dough from the refrigerator and divide it into quarters. Place one quarter on a piece of plastic wrap or waxed paper and lightly sprinkle with flour. Cover with another piece of plastic or waxed paper. Use a rolling pin to roll out dough into a circle about an inch larger in all directions than the pie pan. Remove top layer of plastic or paper, center upside down pie plate on dough, and flip the whole thing over. Remove 2nd layer of plastic or waxed paper and press dough into pie plate. If desired, use fingers to make a nice edge on pie by evening out the edges then use thumb and index finger of one hand to pinch crust around the index finger of the other hand, to make a scalloped edge. Place pie crusts in freezer while you prepare filling.
Prepare Filling:
In a large bowl, beat eggs with an electric mixer until frothy. Add pumpkin, sweetened condensed milk or dulce de leche, salt, cinnamon, ginger, nutmeg, cloves, hash or kief, and vanilla and beat until well combined. Pour into prepared crust(s). Bake for 15 minutes, reduce temperature to 350 degrees F and bake for another 25 minutes or just until set. Serve warm, at room temperature or cold. Garnish with whipped cream if desired.
Freezer Friendly!
Cool pies completely, cover tightly with foil and freeze. Bring to room temperature and enjoy, or if desired, reheat thawed pies in a 350 degree oven until warm, about 15 minutes.
* Dulce de Leche, which technically means milk candy, is a thick caramel brown syrup made from sweetened condensed milk. It comes packaged in cans, like it's close cousin sweetened condensed milk, or in plastic bottles. Nestles makes the most commonly found brand in the US, La Lechera.
TIP! The Easy Way to Roll Mini Pies!
I recently discovered the easiest way ever to roll dough for mini pies. You don't even need a rolling pin, but rather a small tortilla press, found in Mexican markets and used for making, tortillas. This little gadget also works exceptionally well for making mini pie crusts. Place dough between a sheet of plastic wrap on the tortilla press.
Press dough to get a perfectly sized mini pie circle of dough.
Place in pie crust, pinch the edges and freeze!
Cannabis Infused Banana Caramel Cupcakes with Dulce de Leche Icing
Rich caramel blends perfectly with bananas in these indulgent cupcakes, topped with a creamy Dulce de Leche icing.
Yield: 14 Cupcakes
Serving Size: 1 Cupcake
Cake:
1 1/4 cups all-purpose flour
1 1/2 teaspoons baking powder
1/2 teaspoon baking soda
1/2 teaspoon salt
3 1/2 grams finely ground kief or hash*
1/2 cup butter
3/4 cup brown sugar
2 large eggs
2 ripe medium bananas, peeled and mashed
1/2 cup heavy cream
2 teaspoons vanilla extract
Icing:
1 cup unsalted butter, at room temperature
4 cups sifted powdered sugar
Pinch of salt
2 teaspoons pure vanilla extract
1/4 cup heavy cream
1 (14 ounce) can of Dulce De Leche**
shaved chocolate for garnish, optional
Preheat oven to 350 degrees F. Place paper cupcake liners in 14 muffin tin cups. In a small bowl combine flour, baking powder, baking soda, salt and kief or hash. Stir to combine well. Set aside.
Use an electric mixer to beat together butter and brown sugar until light and fluffy. Beat in eggs, banana, cream, and vanilla until well combined. Lower mixer speed and beat in dry dry ingredients just until combined.
Fill prepared muffin cups about 3/4 full and bake for about 25 minutes or until a cake tester comes out clean. Allow to cool for 10 minutes in pan. Remove from pan, with paper cups, to a wire rack. Cool completely before frosting.
Prepare icing while cupcakes are baking. Beat 1 cup butter in mixer on medium-high speed until smooth and fluffy. Reduce mixer speed to low and slowly beat in 2 cups confectioner's sugar. Beat in salt, vanilla extract, cream, and dulce de leche. Continue adding powdered sugar until you reach desired consistency. Mix on medium speed for about 4 minutes or until smooth and fluffy. Frost cupcakes when completely cool.
Freezer Friendly!
Store baked cupcakes in the freezer, either frosted or unfrosted. A gallon size zip-top plastic storage bag makes a good container. Make 2 layers, separated by a sheet of waxed paper, then remove just the amount you need whenever you want a treat. If you choose to frost later you can freeze covered plastic containers of icing separately. Thaw at room temperature for 20 minutes before frosting cakes. (Hint: Cakes are easier to frost when frozen). Let frosted cupcake sit at room temperature at least 15 minutes before serving.
* This dose is only a suggestion. Be sure to read and understand Calculating Cannabis Doses in Ediblesbefore attempting to cook with marijuana.
** Dulce de Leche
Dulce de Leche is a caramelized sweetened condensed milk. Find it, packed in cans or plastic bottles, in Latin markets or the Latin foods section of most supermarkets.
Cannabis Infused Stir Fried Ginger Shrimp and Asparagus
This satisfying stir-fry dinner goes together in a flash. Serve over rice or your favorite Asian style noodles.
Yield: 4 Cups
Serving Size: 1 Cup plus rice or noodles
1/2 teaspoon minced garlic
2 tablespoons minced fresh ginger
1/3 cup chicken or vegetable stock
2 tablespoons rice vinegar
2 tablespoons oyster sauce*
1 tablespoon sesame oil
1 teaspoon sugar
1/2 teaspoon black pepper
2 teaspoons cornstarch
3 tablespoons melted cannabis infused butter*
4 teaspoons vegetable or canola oil, divided
1 pound peeled fresh medium raw shrimp
2 cups fresh trimmed asparagus pieces (cut each stalk into 4 to 5 pieces)
4 ounces sliced white, cremini, or shitake mushrooms
4 green onions, white and green parts, minced
Whisk together garlic, ginger, stock, vinegar, oyster sauce, sesame oil, sugar, salt, pepper, and cornstarch until well combined. Whisk in melted cannabis infused butter until well combined and mixture is emulsified. You can alternately prepare sauce in a small food processor. Set aside.
Heat a wok over high heat. Add 2 teaspoons oil and swirl to coat wok. Add shrimp and stir fry just until cooked, about 4 to 5 minutes. Remove shrimp from wok and set aside. Add remaining 2 teaspoons oil to wok and swirl to coat. Add asparagus, mushrooms, and green onions to wok and stir fry until crisp-tender, about 6 minutes. Return shrimp to wok and stir to combine ingredients. Stir sauce and pour over ingredients in wok. Cook, stirring constantly, for about a minute or until sauce heats through, thickens, and evenly coats the food. Serve immediately over rice or noodles.
* Oyster Sauce, a staple of Chinese cuisine, is a thick, dark brown sauce made from ground dried oysters. Available at Asian food markets or well stocked grocery stores, oyster sauce will keep indefinitely in your refrigerator.
* This dose is only a suggestion. Be sure to read and understand Calculating Cannabis Doses in Ediblesbefore attempting to cook with marijuana.
Click herefor instructions for making marijuana infused butter.
Cannabis Infused Chicken and Cashew Sandwich or Salad
Chicken salad soars to new heights of flavor with this unique recipe featuring sweet red grapes, crunchy cashews, and exotic curry.
Yield: 3 cups/4 Servings
Serving Size: 3/4 Cup
1/4 cup mayonnaise
1 gram kief or finely ground dry hash*
1/2 teaspoon curry powder
1 1/2 cups diced cooked chicken
1/2 cup halved seedless red grapes
1/4 cup finely diced celery
1 tablespoon minced onion or shallot
1/4 cup chopped cashews
1 tablespoons minced fresh Italian parsley (or 1 1/2 teaspoons dried)
Salt and pepper to taste
Sprinkle kief or hash and curry powder over mayonnaise and mix to combine. In a medium bowl, toss remaining ingredients with mayonnaise mixture. Season to taste with salt and pepper. Serve stuffed in a pita bread, on toast, or on a bed of lettuce.
* This dose is only a suggestion. Be sure to read and understand Calculating Cannabis Doses in Ediblesbefore attempting to cook with marijuana.
Source: A List Of Delicious Cannabis Recipes
Todays new recipes, hope you all enjoy, keep checking back daily for new yummy medibles! 6/10/12
Slacker Jacks
Ingredients:
2 tablespoons canola oil (substitute cannabis-infused oil if desired)
3 oz unpopped popcorn kernels
1 cup salted peanuts
¼ cup cannabutter, plus one tablespoon melted
2 cups light brown sugar
¼ cup brown rice syrup (or dark corn syrup)
½ tsp vanilla extract
¼ cup raisins, if desired
¼ cup chocolate chips, if desired
Equipment:
Candy thermometer (about $10 at a cookware store)
Directions:
First, make your popcorn. Use a large pot with a lid. Pour the popcorn kernels into the bottom of the pot and make sure they are all spread out in an even layer. Coat the popcorn in canola oil and stir until well-coated, and sprinkle with salt. Heat on medium heat, shaking the pot often. After about 5 minutes, the popcorn will begin popping, so put the lid on the pot, cracked open a bit to let steam escape. Keep shaking the pot until all the popping has subsided. Turn off the heat and stir in the melted one tablespoon of cannabutter.
If you're feeling super lazy and don't want to make popcorn, use 10 cups of microwave or pre-popped popcorn.
Preheat the oven to 250º F. Spray a sheet pan with non-stick spray and cover with parchment paper. These steps are vital to prevent the candied popcorn from sticking. Sprinkle the popcorn, peanuts, raisins and chocolate chips on the sheet pan and mix together. Set aside.
Melt the cannabutter in a saucepan over medium heat. Add the brown sugar, syrup, and vanilla extract and stir until combined. Heat this mixture until the candy thermometer reads 250ºF. This is the critical moment. Carefully pour the hot mixture over the popcorn and quickly stir with a metal spatula to combine. The caramel mixture will harden very quickly, so you must work fast to get the popcorn coated and spread out in an even layer. Bake in the oven for one hour. Cool completely and then break into pieces and serve immediately. You can also store in an airtight container for a few days.
Jack Herer Hemp Cookies
Ingredients
1 ½ cups (3 sticks)

cannamargarine

(or

cannabutter

if you aren't looking for a low-fat recipe)




2 ¼ cups

hemp flour (available at health food stores or online at

manitobaharvest.com

)




1 ½ teaspoons

baking soda




1 teaspoon

salt




¼ cup

firmly packed light brown sugar




2 cups

Splenda granulated sweetener or equivalent natural sugar replacement




1 ½ teaspoons

vanilla extract




3

eggs




3 cups

five-grain rolled cereal




1 cup

walnut halves, coarsely chopped




1 cup

dried cranberries




1 cup

roasted hemp seed




1 cup

golden raisins



Cooking Directions
In a double-broiler, melt cannamargarine over medium heat. Continue heating over low heat for 45 minutes to 1 hour, until the cannabis is brown and crispy.

Pre-heat the oven to 375°F.

Lightly grease two cookie sheets and set aside.

In a large bowl, sift together hemp flour, baking soda, and salt.

In another bowl, blend the melted cannamargarine, brown sugar, sweetener, vanilla, and ¾ cup water together, Beat eggs and add to cannamargarine mixture, then stir into flour mixture. Add cereal, walnuts, dried cranberries, hemp seed, and raisins. Mix well.

Form dough into walnut-sized pieces and place onto the prepared baking sheets. Bake for 10-12 minutes. Cookies should be soft in the center, with light brown edges. Cool on racks.

Mini Pecan Pot Tarts
These are so easy that any beginning ganja baker can make them, and so tasty that you'll be making them again and again as the summer continues. All you need is access to a 24-cup mini muffin pan, and the rest is stoner simple.
Ingredients:
5 tablespoons of cannabutter, softened, plus one tablespoon of meltedcannabutter
4 ounces light cream cheese
1 cup all-purpose flour
1 tablespoon powdered sugar
¼ teaspoon salt
¾ cup light brown sugar
1/3 cup semi-sweet chocolate chips
1 large egg
1 teaspoon vanilla extract
2/3 cup chopped pecans
Preheat your oven to 325º. Grease a 24-cup mini muffin pan. Make sure your butter and cream cheese are very soft before mixing in a large bowl by hand, or blend with an electric mixer. Mix the butter and cream cheese until smooth, then begin adding the flour and powdered sugar a little at a time, thoroughly blending each addition before adding more. Add 1/8 teaspoon of salt to the dough mixture, and work it with your hands to form a smooth ball.
Dust flour over a work surface, and use a rolling pin (also floured) to roll the dough out into a flat circle about an 1/8 inch thick. Use a knife to cut the dough into 24 squares. Take the trimmings from the edges, form those into a ball and reserve. Take each square and use your hands to work it into a small ball, then flatten it into a round shape and use your fingertips to press it into the muffin cup, pushing dough up over the edges. Roll out your reserved trimmings if you need more dough to fill the cups. Refrigerate the tray.
Mix brown sugar, chocolate, egg, melted cannabutter, vanilla and remaining 1/8 teaspoon salt in a bowl until well combined. Sprinkle half of the pecan pieces into the muffin cups, then cover with the sugar mixture, and finally press the remaining pecans on top.
Bake until dough is lightly golden brown, about 20 minutes. Allow to cool for 5 minutes before using a knife around the edges to remove tarts from the muffin cups. Continue to cool tarts on a wire rack for another ten minutes. If you are transporting the tarts, pack snugly in an airtight container, cushioned with paper towels. Enjoy!
Lemon-Lavender Cannabis Cake
Ingredients:
3 cups cake flour
½ teaspoon baking powder
½ teaspoon baking soda
1/8 teaspoon salt
1 stick of unsalted cannabis-infused butter* at room temperature
1 stick of regular unsalted butter, also at room temperature
2 cups of sugar
1 tablespoon of dried lavender flowers
3 large eggs, lightly beaten
1 cup of well-shaken buttermilk
2 tablespoons of finely grated lemon zest
2 tablespoons of fresh lemon juice
*If you'd really like to gild the lily, use the strain called Lavender from Soma Seeds to infuse your butter.
Before baking:
Preheat the oven to 350º and center a rack in the oven. Butter a 10-by-three-inch Bundt pan, coat with non-stick spray and then sprinkle flour all over the buttered pan, tapping out the excess. These steps will help your finished cake release from the pan without sticking.
Make sure all your ingredients, including butter, eggs and buttermilk, have been sitting at room temperature for at least 40 minutes before you begin.
Directions:
Sift together the flour, baking powder, baking soda, and salt into a large bowl and set aside.
In the bowl of a stand mixer fitted with beaters or a paddle, beat the butter on medium speed for 45 seconds. Add the sugar and lavender flowers in a steady stream, stopping the mixer after every few turns to scrape down the sides of the bowl. Beat on medium for five minutes, until the mixture is light and fluffy.
Keep the mixer on medium speed, and add the eggs a little at a time, beating after each addition until well combined.
On the lowest speed, add one cup of flour mixture, then ½ cup of buttermilk, beating after each addition until well incorporated into the batter.
Continue by adding another one cup of flour, beating, then adding the final ½ cup of buttermilk, beating again, and finally add the rest of the flour slowly and beat until well combined. After each addition, stop the mixer and scrape down the sides of the bowl.
Detach the paddle or beaters and scrape all of the batter into the bowl. Stir in the lemon zest and lemon juice. Spoon the batter into the prepared pan until it is about three-quarters full. Spread the batter evenly with a spatula.
Bake the cake until a toothpick comes out clean, about 60 to 65 minutes. Transfer to a wire rack and allow to cool in the pan for 20 minutes.
Tilt and rotate the pan, tapping it against the counter to release the sides of the cake. Invert a wire rack over the top of cake, turn it over and lift off the pan. Let the cake cool completely.
Wake and Bake Breakfast Sandwiches
Ingredients:
1 gram good bud (ground fine in coffee grinder) For this experiment I used Northern Lights
2 slices bread
2 large eggs
2 pcs bacon
2 "Velveeta" cheese slices
Real Butter
Toast bread and butter liberally
in pan over high heat cook bacon and scramble eggs
Assemble in *this* order:
1 slice bread, butter side up.
1/2 gram powder bud
1 slice cheese
1 slice bacon
eggs (all of them)
1 slice bacon
1 slice cheese
rest of bud
1 slice bread, butter side down
Press sandwich together and microwave for 30 seconds or until cheese is completely melted...Enjoy
1 1/2 hours after breakfast, I'm blown.
Happy scrambled egg breakfast
so, I have reall been getting into cooking lately, and I had a little and decided to try a random thing, I did not expect this to work, but it did, so I feel like sharing this easy recepie for making scrambled eggs for a fun and nice breakfast. this is just making scrambled eggs with one added step, so I will not really go into the technical process of making the actual eggs.
what you'll need:
a bowl,
spatula,
butter,
eggs,
pot, as always with edibles, I highly suggest using sativa/sativa dominant buds, there's just something special about sativa in an edible that's just lost on indica varieties, hard to place a finger on exactly what it is, some of you out there probably know what I'm talking about.
what ti do:
prepare the eggs in a bowl like usual, milk and cheese are optional, I don't use them typically, I don't know if it would make a difference
break up the herb if necessary
turn the burner on high (yes, I know high for these recepies is a little risky usually, but high is what I do), and melt a little extra butter in the pan, enough for a questionably slightly too thick coating
let sit till the butter slightly begins to brown in some spots, have your eggs ready, throw ground pot in desired amount in pan, and quickly cover in egg.
it will cook quick, but cook the eggs, careful not to burn them. serve with toast if desired.
and that is a simple way to start the day off right
hope you all have fun, and over do it, it's more fun
also a note, although only in the open air momentarily before being covered, this may or not produce a smell, it depends on how much you use, take this into consideration as needed.
Baked Marijuana French Toast: French Toasted
Marijuana French toast? Yep, you read that right, and there's no tastier way to completely ruin your early-morning motivation.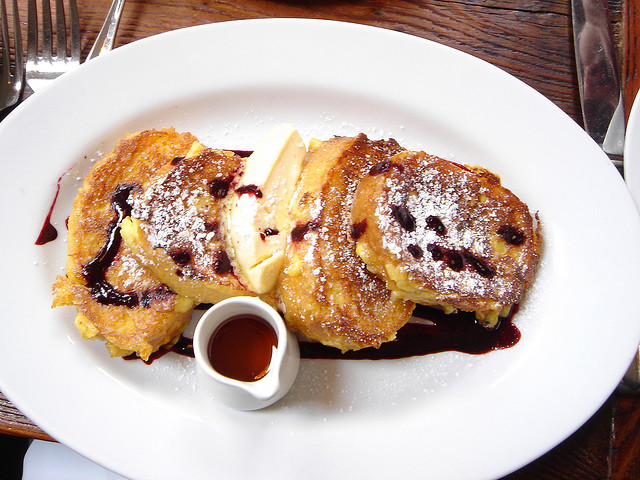 Ingredients:
1 French baguette

1 ½ tbsp. butter

3 tbsp. cannabutter

4 eggs

1 cup milk

¼ cup sugar

3 tbsp. maple syrup

1 tsp. vanilla extract

½ tsp. salt

powdered sugar

Directions:
Lightly butter a 13 by 9-inch (32.5 by 23-cm) baking dish. Cut the baguette crosswise at an angle into 8 slices. Each should be about ¾ inch (2 cm) thick. Using a small bowl, cream the pair of butters together until thoroughly combined. Now spread the butter onto a single side of each of your 8 slices and then arrange them butter side up in your prepared baking dish.
Next, whisk together the eggs, sugar, milk, syrup, vanilla, and salt. Pour the mixture over the bread and press the slices down into it before covering the dish and allowing it to refrigerate for 8 hours.
When ready to cook, preheat your oven to 350°F (180°C). Once heated, place the uncovered baking dish in the oven and bake for 45 minutes or until the tops are golden brown. Dust them with powdered sugar and serve.
Cannabis Chocolate Recipe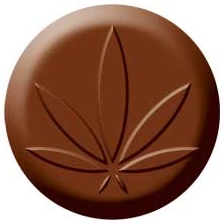 A simple recipe for making cannabis-infused chocolate.
Ingredients:
7 grams (¼ ounce) good cannabis

170 grams (6 ounces) dark chocolate

28 grams (1 ounce) chopped or whole nuts

Directions:
Finely break the cannabis down, making sure it is ready when the chocolate comes to a melt. Break the chocolate into chunks and place it inside a microwaveable glass bowl. Place in the microwave and heat on high for thirty seconds before stirring in the ground cannabis. Now place the chocolate back into the microwave and heat on medium for an additional thirty seconds. If necessary, continue heating the chocolate in short increments until it is well melted.
Once adequately melted, stir in the nuts (dried fruit and M&M's are other suggestions) and then use your favorite chocolate mold to shape your THC treats. Enjoy!
Caesar Salad Roll It Up
Caesar salad roll it up is very healthy and hands on fast. Enjoy a crisp light feeling in your stomach.
Ingredients:
9 or 10 leaves of romaine lettuce
1 cup of croutons
4 bacon strips, cooked and crumbled
2 + 1 tablespoons grated parmesan cheese
2 tablespoons marijuana infused olive oil
2 teaspoons white wine vinegar
1 teaspoon anchovy paste (optional)
1 teaspoon Dijon mustard
1 clove minced garlic
1/4 teaspoon each of salt and fresh ground pepper
1/4 teaspoon Worcestershire sauce
2 tablespoons light mayonnaise
Instructions:
Dressing - In a small bowl whisk together the olive oil, 2tbsp cheese, vinegar, mustard, anchovy paste, garlic, salt, pepper and Worcestershire sauce, then finally whisk in the mayo until smooth.
Remove 4 largest lettuce leaves and trim about 3 inches from the bottom, set aside for wrappers. Add the bottoms to the remaining leaves and shred to make 3 cups.
In a bowl, combine shredded lettuce, croutons, bacon, remaining parmesan cheese. Add the dressing and toss to coat.
Serve with reserved lettuce leaf wrappers to roll up each serving.
Cannabis Beer Batter Onion Rings
Cannabis beer batter onion rings are a fun way to introduce cooking with marijuana by directly throwing a marijuana bud into the recipe.
Ingredients:
1 Walla Walla Sweet Onion
1 cup buttermilk
vegetable oil
1/8 ounce marijuana, dried and chopped
1 beer of choice
1 cup flour
dry garlic, salt, fresh ground pepper
Instructions:
Peel the outer skin off the onion and cut 1/2 " rings. Cover the onion rings in buttermilk, place in the fridge for 1 to 2 hours.
Place vegetable oil and 1/8 marijuana bud in a pot making sure there is enough vegetable oil to cover the onion rings. Preheat the oil.
Beer Batter: In a bowl whisk together the beer and flour.
Flour Dredge: In a bowl mix flour, garlic, salt and pepper.
Take the onion rings from buttermilk to flour to batter to oil.
Remove the cannabis beer batter onion rings when golden brown, eat when ready.
Crispy Spicy Hot Chicken Weed Wings
Crispy spicy hot chicken weed wings take 5 to 9 hours to complete, including cooking time. A labor of love will produce a nice crispy weed wing. A fiery palate will produce a great spicy hot sauce.
Ingredients:
Tons of chicken drumette wings
Spicy Hot Sauce:
1/4 cup marijuana butter
1/4 cup chipotle hot sauce
1 tablespoon corn starch
Instructions:
Wipe each drumette wing with paper towel to dry off. Place a rack inside a large bowl. Place the drumettes on the rack leaving space for air to circulate around them. Place inside a refrigerator for 2 to 4 hours. (The sides of the bowl will keep the chicken from contaminating the fridge).
Get a vegetable type steamer rocking and boiling. Place the wings inside and steam them on medium heat for 10 minutes. Remove and place in an ice bath to stop the cooking process. Rub in paper towels to remove moisture.
Place weed wings on a rack on a baking sheet lined with paper towel. Put your wings on the rack and place back in the fridge for 2 to 4 hours.
Preheat the oven to 425F. with 10 minutes left to go on the weed wing fridge session.
Remove the baking sheet from the fridge. Remove the rack of wings, set aside. Replace the lined paper towel with parchment paper and add tin foil around the edges of the baking sheet. Put the rack of weed wings back on the baking sheet lined with parchment paper.
Cook for 40 to 45 minutes, to desired crispiness.
Spicy Hot Sauce: Melt on medium heat 1/4 cup marijuana butter, then add 1/4 cup of your favorite hot sauce (chipotle hot sauce) and stir the mix together. Add 1 tablespoon corn starch, stir to mix, sauce should start to thicken and therefore stick great to the chicken weed wings. Adjust the corn starch to suit your desired thickness of sauce.
Remove immediately wings from oven. Place in large bowl, cover with home made hot sauce, toss well and let sit for at least 2 minutes to allow chicken wings to soak up as much sauce as possible.
Serve and enjoy the hot marijuana sauce, it's also great on other food ideas.
Pasta Pot Sauce
Pasta pot sauce can be made in large quantities and refrigerated for later use. Adding meat is optional and will shorten it's refrigerated lifetime.
Ingredients:
1 minced onion
3 or 4 cloves of minced garlic
2 tablespoons marijuana butter (1 teaspoon marijuana oil is a great addition if you have it)
oregano, basil, thyme, 1 bay leaf
salt and fresh ground pepper
couple three cans of pure tomato sauce
OR
couple three cans of crushed tomatoes pureed
Instructions:
Heat the marijuana butter on medium low, add the onion and cook until brown and caramelized.
Add the minced garlic and cook for 2 minutes.
Add all other ingredients and heat through until done.
Use your own taste for measuring and consistency.
-----------------------------------------------------------------------------------------------------------------------------
Specialized Healthy Diet Recipes
Specialized healthy diet recipes can help people who are looking for specific natural occurring sugars, salts, and nutrients. Some people have ailments that call for a special food diet. It's cool to find new experiences in the culinary world. It's nice to pass on recipe favorites. Help someone with the same reality you're living or lived. You can add marijuana food products using discretion. Please consult your physician before trying any recipe. If you have a recipe that you'd like to see posted please leave a reply below!
Renal Diet Recipes
Renal diet recipes are designed for low sodium and potassium intakes. While some recipes will be low in sodium, some may be higher in potassium than needed. Please consult your doctor before going forward with any questions or recipes.
Aunt Barb's Rosemary Garlic Chicken
1 skinless boneless medium size chicken breast
1 medium chopped onion
3 cloves sliced garlic
1 stalk of chopped celery
1 large chopped carrot
sprig rosemary
chopped rosemary
Chop onion, celery and carrot into medium chunks to line the bottom of medium size pot (with lid). Cut garlic into slices and place on top of vegetables. Sprinkle chopped rosemary to taste. You're making a bed of vegetables for your chicken breast to lay on. Place the chicken breast on top of vegetables and garnish with a sprig of rosemary on top of chicken. Place the lid on and cook at medium heat. Do not remove the lid. Cook for approximately 15 to 20 minutes.
Mom's Grilled Fish
1 filet of salmon, or cod, or halibut
lemon juice
margarine
Preheat oven to 375F. Flavor your filet of fish with the lemon juice and margarine. Using a grill press, grill the filet for about 5 minutes until desired crust texture is reached. Place filets on baking sheet, put in oven for an additional few minutes until cooked.
I have been slacking on posting recipes daily, I will promise to give a updates more often things have been ruff lately so please bear with me, in the mean time enjoy the new ways to enjoy your Cannabis!!
Please feel free to post your own recipes that you have made in your kitchen's so others can try your flavors..