We've known for forty years that Cannabidiol (CBD) from the Cannabis Sativa aka Marijuana aka Hemp plant vastly reduces many different kinds of seizures and epilepsy in humans. It is a travesty that patients and parents of children with epilepsy are prohibited from using this non-toxic plant to prevent and stop seizures. Tens of thousands of epileptics have died because they were unable to access this life saving safe non-toxic medication.
Abstract
In phase 1 of the study, 3 mg/kg daily of cannabidiol (CBD) was given for 30 days to 8 health human volunteers. Another 8 volunteers received the same number of identical capsules containing glucose as placebo in a double-blind setting. Neurological and physical examinations, blood and urine analysis, ECG and EEG were performed at weekly intervals. In phase 2 of the study, 15 patients suffering from secondary generalized epilepsy with temporal focus were randomly divided into two groups. Each patient received, in a double-blind procedure, 200-300 mg daily of CBD or placebo. The drugs were administered for along as 4 1/2 months. Clinical and laboratory examinations, EEG and ECG were performed at 15- or 30-day intervals. Throughout the experiment the patients continued to take the antiepileptic drugs prescribed before the experiment, although these drugs no longer controlled the signs of the disease. All patients and volunteers tolerated CBD very well and no signs of toxicity or serious side effects were detected on examination. 4 of the 8 CBD subjects remained almost free of convulsive crises throughout the experiment and 3 other patients demonstrated partial improvement in their clinical condition. CBD was ineffective in 1 patient. The clinical condition of 7 placebo patients remained unchanged whereas the condition of 1 patient clearly improved. The potential use of CBD as an antiepileptic drug and its possible potentiating effect on other antiepileptic drugs are discussed.
https://www.ncbi.nlm.nih.gov/pubmed/7413719
A high dose of Δ⁹-tetrahydrocannabinol, the main Cannabis sativa (cannabis) component, induces anxiety and psychotic-like symptoms in healthy volunteers. These effects of Δ⁹-tetrahydrocannabinol are significantly reduced by cannabidiol (CBD), a cannabis constituent which is devoid of the typical effects of the plant. This observation led us to suspect that CBD could have anxiolytic and/or antipsychotic actions. Studies in animal models and in healthy volunteers clearly suggest an anxiolytic-like effect of CBD. The antipsychotic-like properties of CBD have been investigated in animal models using behavioral and neurochemical techniques which suggested that CBD has a pharmacological profile similar to that of atypical antipsychotic drugs. The results of two studies on healthy volunteers using perception of binocular depth inversion and ketamine-induced psychotic symptoms supported the proposal of the antipsychotic-like properties of CBD. In addition, open case reports of schizophrenic patients treated with CBD and a preliminary report of a controlled clinical trial comparing CBD with an atypical antipsychotic drug have confirmed that this cannabinoid can be a safe and well-tolerated alternative treatment for schizophrenia. Future studies of CBD in other psychotic conditions such as bipolar disorder and comparative studies of its antipsychotic effects with those produced by clozapine in schizophrenic patients are clearly indicated. (PsycINFO Database Record (c) 2016 APA, all rights reserved)
http://psycnet.apa.org/record/2006-05687-001
Abstract
BACKGROUND
The Dravet syndrome is a complex childhood epilepsy disorder that is associated with drug-resistant seizures and a high mortality rate. We studied cannabidiol for the treatment of drug-resistant seizures in the Dravet syndrome.
METHODS
In this double-blind, placebo-controlled trial, we randomly assigned 120 children and young adults with the Dravet syndrome and drug-resistant seizures to receive either cannabidiol oral solution at a dose of 20 mg per kilogram of body weight per day or placebo, in addition to standard antiepileptic treatment. The primary end point was the change in convulsive-seizure frequency over a 14-week treatment period, as compared with a 4-week baseline period.
RESULTS
The median frequency of convulsive seizures per month decreased from 12.4 to 5.9 with cannabidiol, as compared with a decrease from 14.9 to 14.1 with placebo (adjusted median difference between the cannabidiol group and the placebo group in change in seizure frequency, −22.8 percentage points; 95% confidence interval [CI], −41.1 to −5.4; P=0.01). The percentage of patients who had at least a 50% reduction in convulsive-seizure frequency was 43% with cannabidiol and 27% with placebo (odds ratio, 2.00; 95% CI, 0.93 to 4.30; P=0.08). The patient's overall condition improved by at least one category on the seven-category Caregiver Global Impression of Change scale in 62% of the cannabidiol group as compared with 34% of the placebo group (P=0.02). The frequency of total seizures of all types was significantly reduced with cannabidiol (P=0.03), but there was no significant reduction in nonconvulsive seizures. The percentage of patients who became seizure-free was 5% with cannabidiol and 0% with placebo (P=0.08). Adverse events that occurred more frequently in the cannabidiol group than in the placebo group included diarrhea, vomiting, fatigue, pyrexia, somnolence, and abnormal results on liver-function tests. There were more withdrawals from the trial in the cannabidiol group.
CONCLUSIONS
Among patients with the Dravet syndrome, cannabidiol resulted in a greater reduction in convulsive-seizure frequency than placebo and was associated with higher rates of adverse events. (Funded by GW Pharmaceuticals; ClinicalTrials.gov number, NCT02091375.)
http://www.nejm.org/doi/full/10.1056/NEJMoa1611618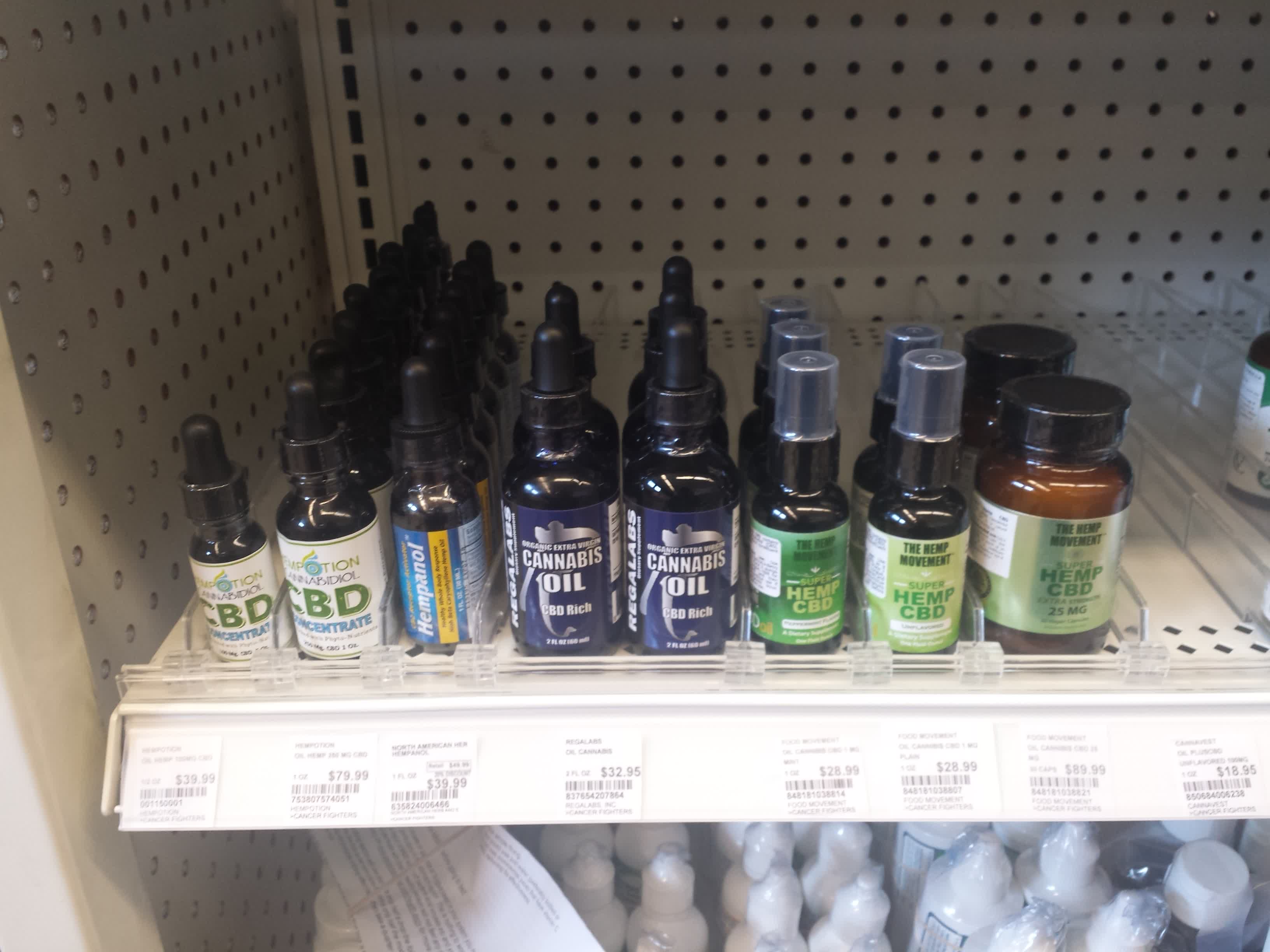 Muskegon mom hopes medical pot will save daughter, 5
Nina DeSarro, WZZM
Published 9:08 a.m. ET March 1, 2018
Can medical marijuana save Michigan girl?
Could something so taboo, something the federal government doesn't recognize as containing medicinal value, be the cure for a 5-year-old girl in Muskegon?
LeAnne Parker is a supermom. Between caring for her two daughters, her dogs and keeping up with her career, she does it all.
"For four years my life was normal. My kids were normal. I knew nothing was wrong," Parker said.
That is until January 7, 2017 when her five-year-old daughter, Lily became unresponsive.
"Her eyes just slowly start going to the right, almost like poltergeist, to the point where she turned her whole body until she was facing the shower which was behind her," Parker said.
In a panic, Parker immediately called an ambulance.
"I didn't know what to do, I just sat there and cried, I thought I was losing her, I just had the door open and I was just screaming for somebody to please help," Parker remembered.
Lily was taken to the hospital where doctors couldn't figure out what had happened.
"They just said, 'if it happens again call us' and sent me home with no answers so we came home with no answers," Parker said.
Two weeks later, it happened again. And then again.
"She did testing and testing and everybody said 'I don't know, just the brain is…welcome to the brain,'" Parker said.
Finally in February, Lily received a diagnosis of epilepsy.
"With two seizures that are unprovoked, you get the diagnosis of epilepsy."
She was immediately put on prescription medication, but the seizures continued. Lily had reached the maximum dosage possibly.
"Now she's failed all pharmaceuticals," Parker said.
Not only were the medications ineffective, her physical and mental state began to deteriorate. Five-year-old Lily was high, every day, her mom said.
"I sent her to school the other day, and they called me and they said that she was tired. She was passing out. She fell asleep during circle," Parker said.
She picked Lily up from school after her teachers told her she was walking into walls. The only other option for Lily was brain surgery, if she would even qualify.
"I thought, there has to be something else," Parker said.
Brain surgery could mean a loss of Lily's peripheral vision.
"And there's a chance that it wouldn't even work, so then my daughter is partially blind and still has seizures, how do you make that choice for your kid, I don't know," Parker said. She would never be able to drive, never be able to play sports, that's a really, really hard decision to make as a parent."
Desperate for another solution, Leanne found out about CBD, Cannabidiol.
"I started doing my research so instead of doing all of my research about epilepsy, now I was doing all of my research about CBD oil and learning everything I possibly could to learn about the benefits of it," Parker said.
She went to a meeting in Grand Haven about medical marijuana's use in treating epilepsy and from that point forward, she was going to give CBD a try.
"It's my daughter, so you can judge me. I feel like we live in a culture where it's okay to pop Oxycontin, Vicodin and pain killers but we look at CBD oil like it's awful, I don't understand that," Parker said.
Nervous, Leanne approached her daughter's neurologist with the idea.
"I brought it up to my doctor hoping and praying that he was on board with it and a lot of people aren't
I'm lucky that I found a doctor that is, because if he wasn't, I'd have to do it behind his back," Parker said.
Weeks later, she received Lily's medical marijuana license in the mail.
"The sad part is, there's no doctor to talk to and that is the most frustrating part with me, because I'm like 'okay I'm on board I want to do this, how, where, what do I do, how do I go about it and how do I even know how to dose my daughter?'" Parker said.
Through her research, she found Bloom. The Ann Arbor based medical marijuana facility that offers doctor/patient consulting.
"I wish this was option one before the pharmaceuticals, I wish I would have tried this first," Parker said.
It's still a little too early today, but it's been 25 days seizure free for Lily.
"I am not hopping on a bandwagon of medical marijuana, I'm jumping off of the pharmaceutical bandwagon," Parker said.
So far, this is the longest Lily has gone without having a seizure since July of 2017.
https://www.freep.com/story/news/local/michigan/2018/03/01/muskegon-medical-marijuana-leanna-parker/384280002/